Once upon a time, I wandered Second Life, mostly hunting, occasionally creating, and then I started breeding Kittycats.  There was a Kittycats forum and I read a bit, posted a bit. One of the other posters stood out, humorous, sarcastic and he often created photographs.  His name was Winter Phoenix.
February 5, 2015 Winter invited me to his shop and we met for the first time.  He, as a seemingly considerate gentleman, offered me a seat in a comfortable granny seat.
Yeah, right!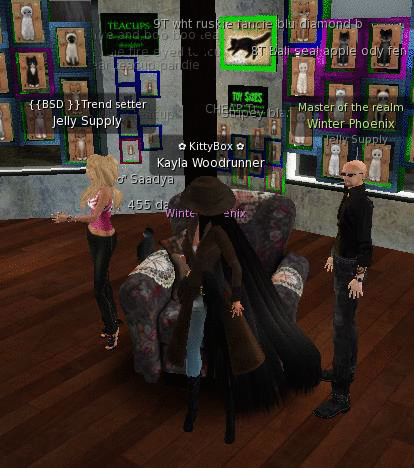 That's me — I have really long hair —– The chair ate me and then spit me out!   Winter and Jelly laughed.
thus the adventure starts.
---
Note: Post was originally posted on Hold on a Second on September 5, 2015. I'm going to reproduce my old posts bit by bit over here as Google closed Google+ April, 2019. I just thought a little redundancy is a good thing in case Google closes down BlogSpot. However, I am dating this February 11, 2015 as that's the day I visited Winter's shop.
Haunted Armchair Evil created by Precious Restless, store name : Boudoir